From a quietly immersive directorial debut to Jordan Peele's latest thriller.
By

by Tomi ObaroBuzzFeed News Reporter

and

by Estelle TangSenior Culture Editor

and

by Elamin AbdelmahmoudBuzzFeed News Reporter

and

by Albert SamahaBuzzFeed News Reporter

and

by Izzy AmpilBuzzFeed News Reporter

and

by Venessa WongBuzzFeed News Reporter
Everything Everywhere All at Once
This action-packed, genre-hopping family drama earned a fanbase so fierce that Daniel Kwan — one of the Daniels, the film's directorial duo — recently issued a Twitter warning to overzealous fans who were furious that it did not make many critics' best-of lists. (Please do not come for me! I am literally putting it on this list.) I have a theory about Everything Everywhere All at Once, which is that people who have experienced a contentious parental relationship will ride harder for this movie than anyone else. It's not rocket science: The playful but profound film hinges on the tension between Evelyn (Michelle Yeoh), a laundromat owner who has no time for fun or, it seems, her daughter Joy (Stephanie Hsu). When an alternate-universe version of Evelyn's husband Waymond (Ke Huy Quan) beseeches her to help him save the multiverse, the hurt and disconnection between mother and daughter figure strongly in the battle. I can see why some found the movie's ending cloying and unearned. But others saw their own story in the struggle and felt seen by the idea that the absence of love feels like a black hole, the possibility of its resurrection a galactic improbability. Who, me? I didn't say anything. —Estelle Tang
Aftersun
It's hard to make noise, per se, about Aftersun, the directorial debut from Charlotte Wells. It's a quiet, evenhanded, and immersive movie about a father–daughter trip, and its stars Paul Mescal and Frankie Corio disappear into the roles so well that you might forget you're even watching a movie. Calum (Mescal) is a dad trying his best as he improvises and adapts while on a vacation with his 11-year-old daughter Sophie (Corio). But as we are introduced to a pain he keeps private, Wells plays with memory so skillfully and subtly that we are slowly shattered as we learn how an adult Sophie remembers the trip. Aftersun has the kind of last shot that stays with you long after the credits roll. It's the rare film where after it ended, everyone in the theater remained in their seats, quietly weeping. —Elamin Abdelmahmoud
Glass Onion: A Knives Out Mystery
One complication of being a murder mystery fan is that the more of them you watch, the harder it is to experience the surprises that make murder mysteries so enjoyable in the first place. There are only so many combinations of killer and victim and motive, you know? But Glass Onion: A Knives Out Mystery, Rian Johnson's sequel to the surprise 2019 hit, takes on that challenge with the inventiveness necessary to advance the genre. Set on the technologically advanced private island of an annoying white male billionaire played by Edward Norton, the movie's sociopolitical perspective is clear from the start, leaving audiences to wonder where the misdirection ends and the clues begin. While Daniel Craig's Benoit Blanc is the headliner, Janelle Monáe carries the film with a cryptic performance that left me spinning in my failed efforts to figure out how her character fits into the secretive circumstances at the heart of the story. Glass Onion delivered everything I hoped for and more — with satisfying twists that caught me off guard by the time the end credits started rolling. —Albert Samaha
Elvis
I love Elvis Presley songs. I love his iconic voice. I love his iconic aesthetic, both in his early days and in his Vegas period. I also (mostly) love Baz Luhrmann. So the odds that I would enjoy an over-the-top director's film about an over-the-top musician were pretty high. The film successfully delivered the dazzling, dizzying musical spectacular I hoped for. This may seem like a strange pick to anyone who expected something else from a film about Elvis — perhaps a more critical perspective on his debt to African American music, his young bride, or his drug addiction. Not me, not now at least. Turns out I was craving sensory overload from something that wasn't a superhero movie (although the beginning of the film actually frames Elvis as a superhero whose power is music), and I honestly just had a good time watching Austin Butler croon and wiggle his hips before a crowd of shrieking, lusty white women whose libidos erupt one by one like kernels of popcorn. It reminded me that as society evolves, so do views of what is transgressive. Presley's early rise is motivated by a desire to take care of his family financially, as his father had gone to prison when he was a child, but his mother warns him, "Do not wear yourself out to get rich." We know how it ends. Elvis gradually loses the people who love him most: first his mother, then Priscilla and Lisa Marie. By the end, he is alone except for his band and audience, tethered to a grand stage. Luhrmann's heroes often meet their ends tragically — in Romeo + Juliet, Moulin Rouge, and Gatsby — but the director's tender use of real footage from the King's 1977 performance of "Unchained Melody" in the final moments of the film — strained and sweaty but ever committed to performing just weeks before he would die — reminds the audience that unlike Luhrmann's other protagonists, Elvis was a real man. All the energy, pain, and sadness Luhrmann channels dazzlingly into his film can be found right before any of us. —Venessa Wong
The Banshees of Inisherin
The Bad Art Friend goes to wicked extremes in this Martin McDonagh black comedy about two best friends who have an inexplicable falling-out in 1920s Ireland. Colin Farrell does some career-defining work as Pádraic, a beleaguered animal lover who doesn't understand why Brendan's Gleeson's Colm Doherty, a cherished local musician, won't have a pint with him anymore. Pádraic's sister, meanwhile, is clearly bright and clearly suffocating on this small fictional island, where cannons go off on the mainland and nosy postal workers read your mail. The film's central premise: How do we deal with loneliness and the confines of an ordinary life and ordinary talent? McDonagh's answer: fight or flight. —Tomi Obaro
The Massive Weight of Unbearable Talent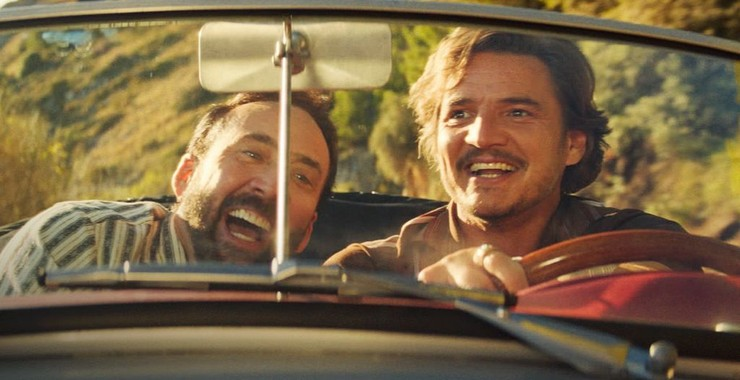 I have a soft spot for "that bad Nicolas Cage movie," and his name is Pedro Pascal. In this epic buddy-comedy romp, Pascal radiates charm as the puppy-eyed Javi Gutierrez, the billionaire stan who invites Cage to his birthday party. He's awkward and adoring, uncertain of how to ask Cage to make a movie with him, and he even introduces his hero to Paddington 2. Though Gutierrez is briefly suspected of running a cartel, it turns out he's too shy and sensitive to be capable of either business acumen or violence, and Pascal clearly relishes the chance to subvert the scheming, fighting roles that made him famous in Game of Thrones and Narcos. And his chemistry with both the real and fictional Nick Cages is a delightful surprise. A scene where the two switch shoes to pledge their loyalties to one another is memorably tender, while a heist-parody stoner-comedy scene where they injure themselves scaling a wall only to discover they could have walked around it made me cackleout loud. The whole movie feels like an inside joke among the screenwriters and the lead actors, and I loved living inside the quick-riffing humor of Pascal and Cage's world. —Izzy Ampil
Nope
Y'all heard of this Jordan Peele guy? I have a feeling he's going to be huge. The truth is, Peele burst out so big with Get Out and Us that it was hard to imagine how he could live up to the auteur hype. Then again, that may be because our imagination is not as sweeping as Peele's. The premise is relatively simple: It's a movie about trying to capture proof of a UFO. Straightforward enough, right? Except somehow, Peele manages to blend genres from horror to Western to straight-up science fiction on an expansive journey that subtly deploys every movie trick from John Carpenter to Steven Spielberg, all marshaled in the service of delivering searing commentary about racism in Hollywood and how America treats Black people. Daniel Kaluuya and Keke Palmer deliver stunning performances as brother and sister OJ and Em Haywood, struggling to bag footage of something strange in the sky above their family ranch. Nope is plugged into the reality that the ability to capture racist violence on camera has transformed the conversation about race in America, but Peele wants you to think carefully about how it took cameras to prove its existence. Also, the sitcom massacre scene will never leave you. Good luck. —E.A.
The Menu
From the opening minutes of the absurdist comedy The Menu — which was written by former Onion contributors Seth Reiss and Will Tracy and directed by Succession director Mark Mylod — you know what you're getting into. A bunch of obnoxious rich folks taking a boat onto a mysterious island for an exclusive meal prepared by a revered chef and a staff of workers laboring under grueling conditions? Of course some dark shit is about to go down. But shoutout to movies that respect your intelligence. This film's first big reveal comes earlier than you might expect, and the pace only accelerates from there, serving its tightly wound plot through elegantly understated cinematography and crisp dialogue that carefully unfurls the paths that brought these characters together. A psychological thriller layered with hardcore food porn and themes of economic inequality, The Menu alludes to the zeitgeist of our moment with a light touch, like a spice that kicks up a dish's flavor without overpowering its core elements. The movie roars toward its sizzling crescendo with a steadily rising surrealism that makes every conceivable outcome seem plausible. —A.S.●
Movies

Everything Everywhere All At Once

Aftersun
Tomi ObaroBuzzFeed News Reporter

Tomi Obaro is a deputy culture editor for BuzzFeed News and is based in New York.

Contact Tomi Obaro at tomi.obaro@buzzfeed.com.

Got a confidential tip? 👉 Submit it here

Estelle TangSenior Culture Editor

Estelle Tang is the deputy culture editor for BuzzFeed News and is based in New York.

Contact Estelle Tang at estelle.tang@buzzfeed.com.

Elamin AbdelmahmoudBuzzFeed News Reporter

Elamin Abdelmahmoud is a culture writer for BuzzFeed News.

Contact Elamin Abdelmahmoud at elamin.abdelmahmoud@buzzfeed.com.

Albert SamahaBuzzFeed News Reporter

Albert Samaha is a senior culture reporter at BuzzFeed News and author of two books, "Concepcion: Conquest, Colonialism, and an Immigrant Family's Fate" and "Never Ran, Never Will: Boyhood and Football in a Changing American Inner City." He is based in New York.

Contact Albert Samaha at albert.samaha@buzzfeed.com.

Izzy AmpilBuzzFeed News Reporter

Izzy Ampil is a culture fellow for BuzzFeed News and is based in Los Angeles.

Contact Izzy Ampil at izzy.ampil@buzzfeed.com.

Venessa WongBuzzFeed News Reporter

Venessa Wong is a reporter for BuzzFeed News and is based in New York.

Contact Venessa Wong at venessa.wong@buzzfeed.com.